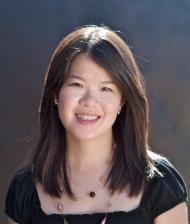 Ashley Fu-Tsun Wang is a Taiwanese composer whose work draws on the eclectic nature of her musical palette, ranging from Western and non-Western classics to jazz and pop. Described by the New York Times as "Feldmanesque," "punchy" and "frenetic," she composes music that seeks to capture the transience of momentary beauty and individual identity through the juxtaposition of musical oppositions and through constant transformation and flow, revealing complexity within simplicity.
Ms. Wang's music has been performed across North America, Europe, and Asia at venues including Carnegie Hall, Atlantic Center for the Arts, MASS MoCA, Roulette, The Stone, Hindemith Foundation (Switzerland), Logos Foundation (Belgium), Herz Jesu-Kirche (Germany), Villa Romano (Italy), Kitara Hall (Japan), Hong Kong Arts Centre (Hong Kong), Yong Siew Toh Conservatory Orchestra Hall (Singapore), and Bach Hall (Taiwan). She has collaborated with ensembles and performers such as Brooklyn Rider String Quartet, MIVOS Quartet, members of Eighth Blackbird, pianists Eric Huebner, Vicky Chow, Jenny Q Chai, conductors David Gilbert, Brad Lubman, Paul Chiang, and visual artists Alice Grassi and Takeshi Moro.
In 2010, Ms. Wang's solo piano piece Intimate Rejection was released on Jenny Q Chai's solo album "New York Love Song" on the ArpaViva Foundation Inc label. Recently Ms. Chai also premiered Current, which was reviewed as a "vibrant work," and "the high point of the night, [full of] icily misty tonalities." Ms. Wang's music has been broadcast on WNYC by John Schaefer and on Taukay Edizioni Musicali in Italy. She is the winner of the Yvar Mikhashoff Trust for New Music competition, the Look and Listen Festival Composition Prize, and the Award of Literature and Art Competition (2008 and 2010), and was recognized by International Music Prize, Fast Forward Austin Festival, Margaret Blackburn Composition Competition, and National Association of Composers, among others. She is also the recipient of an Encore Grant from the American Composers Forum, a Composer Assistance Program of New Music USA Award from the American Music Center, and an ASCAPlus Award from the ASCAP Foundation.

Ms. Wang has been a fellow at the MusicX Festival, Bowdoin International Music Festival, June in Buffalo, Pacific Music Festival, Tutti New Music Festival, Bang on a Can Music Festival, Festival of Women Composers, Society of Composers National Conference, an associate artist at the Atlantic Center for the Arts, and has worked with Robert Beaser, Matthias Pintscher, Joel Hoffman, David Felder, David Lang, Michael Gordon, Julia Wolfe, and Lera Auerbach. She has studied with Nils Vigeland, Reynold Tharp, Stephen Taylor, Philipp Blume, Gordon Shi-Wen Chin, Wan-Chen Huang, and participated in master classes with Steven Stucky, Marco Stroppa, Fabien Lévy, and Michael Hersch. Wang is currently pursuing her Doctor of Musical Arts degree at the University of Illinois, Urbana-Champaign. She holds degrees from the Manhattan School of Music and SooChow University. For more information please visit www.AshleyWang.com